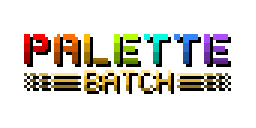 Palette Batch
A downloadable tool for Windows
PaletteBatch is a tool created from my need to create sprites with indexed colors to use in SGDK (Development Kit for Megadrive / Sega Genesis games).
The basic concept of the application is to convert one or more images based on the color palette chosen by the user. The software supports files in .PNG and .PAL format for color palettes.
Note: keep in mind that to export in 8-Bit Color Indexed mode you need to use a color palette with less than or equal to 256 colors.
How to Install
There is no need to install, just unzip the files into any folder of your choice.
How to Use
Create your color palette in any image editing software (or import an image to automatically generate a color palette);
Load the palette into the software by pressing the LOAD button on the left side of the screen;
Load one or more sprites by pressing the LOAD buttons in the middle of the screen;
Save the results by pressing the SAVE button on the right side of the screen. If you select to save multiple files (Batch), all the folders and subfolders from the origin folder are going to be copied to the destination folder.
Tips
You can change the colors in the color palette by clicking on one and then clicking on another color.
Download
Click download now to get access to the following files: